Sorry I've dropped off the blogosphere last week! This is just a quick update here, as I have a lot of catching up to do, all around! My fingers ended up swelling up after I ate something that I had a reaction to, and it was painful enough to hold a crochet hook. I didn't spend too much time on the computer either. What a drag to have all sorts of wonderful projects that I could be working on sitting right there in front of me and not being able to do anything with them. It's like a crocheter's nightmare! Idid, however, get to spend a lot of time with my little ones, using that non-crochet time to do things like be the Hulk to their Iron Man and Thor, so… that was something, I guess :)
I also found some really cute patterns that I have queued up and other ideas I've been playing with as well. Over in the Vanna group, we're brainstorming on colors for upcoming swaps, and I arranged a color scheme that I'm really pleased with – here's the photo of the colors, and I picked up all the colors except for Raspberry when the boys and I took a trip to our local yarn store this week. I think that I like the scheme without the addition of it, now that I see the colors in front of me. That way, there's a little less pink and more balance between the colors.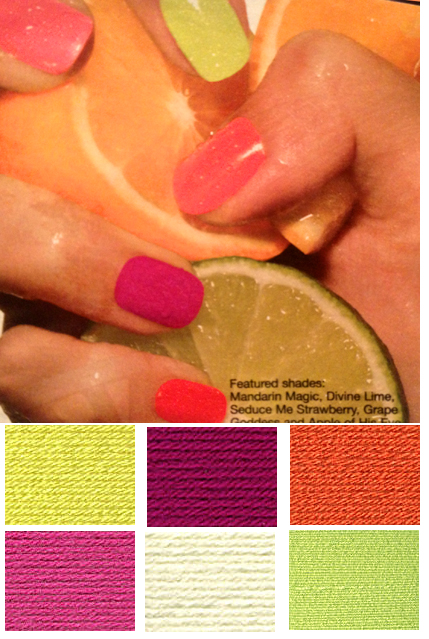 The colors are from an Avon catalog. As soon as I saw those bright colors, I was transported back to my youth – how many of you were children of the 80s and early 90s, where everything was neon – especially in the summertime? Well, every time I see colors as bright as these, I'm always taken back to the beach where I grew up. Everyone had their neon swimsuits, bikes, day-glo shirts, their neon swim accessories… I think even the sun-tan bottles were neon!
Maybe it's just me being reminiscent with the summer approaching again (finally!) or maybe I'm just really digging these new colors in Vanna's line (the colors in the picture above are Radiant Yellow, Magenta, Radiant Orange, Raspberry, Lamb – from the baby line, and Radiant Green – with all the "Radiant" colors being newer). Whatever the case, I'm ready to put aside my more drab projects for a little while for a shot of color!
Now, if you'll excuse me, I have a ton of work to catch up on!